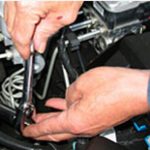 Choosing the right garage for your car servicing in Whaley Bridge will give you peace of mind. Your car is an investment and it makes perfect sense to care for your investment properly. This would include choosing the right garage for your car's regular servicing. At Cottage Street Garage, we offer a range of services that will meet your needs perfectly. We are known as Macclesfield's automotive repair specialists. With many years of experience in car servicing, repairs, maintenance, MOTs, tyres and more, we are the number 1 choice for your car.
We can provide both interim and full servicing. In Whaley Bridge, car servicing happens at our modern, well-equipped garage. We have the latest diagnostics equipment to service and maintain all makes and models of car. If you own a Ford, Vauxhall, BMW, Porsche, Mercedes, Renault, Audi, Toyota, Honda, or Citroen, we can assist with professional servicing. We are all aware that regular servicing is essential to keep your car running at its best. A service will also identify any problems before they become too large. Regularly servicing your car will keep costs down too. When your cars serviced and in good repair, getting the MOT certificate is easy – you know that your car is in the condition needed for it to pass the MOT test.
Car servicing in Whaley Bridge at our garage is good value for money. On top of that, we will provide a thorough wash and clean of your car as part of a full service. We complete all our servicing as per the manufacturer's recommendations. This means that you will have peace of mind, knowing that your car is correctly and efficiently serviced. We follow the manufacturers' service schedules, and we will stamp your service book so that you can maintain its service history. For more details about how we can assist you with professional car servicing, contact Cottage Street today. If you are unable to bring your car in yourself, we would be happy to provide a collection and delivery service for your convenience. While car owners should service their cars every 12 months, should any problems develop before the next service is due, bring your car to our garage for a check by our expert technicians.