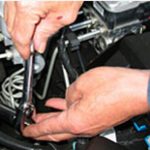 If you're looking for a top garage for car servicing in Gawsworth, we are available to assist. Choosing the right garage for your vehicle brings you peace of mind. You'll know that the servicing for your car is completed to the manufacturer's recommendations. You will also know that if there are any potential problems, the technicians will repair them. If you're looking for a professional garage, we welcome you to ours. As Macclesfield's automotive repair specialists, we offer a range of high-quality services, including interim and full car servicing. Servicing your vehicle is essential to keep it running safely and efficiently.
We have a state of the art, fully equipped workshop. This means that, in Gawsworth, car servicing is comprehensive and thorough. Our technicians have the experience, skill and expertise to provide a high level of workmanship. When you bring your vehicle to us, we'll begin with a complete inspection of your car. We'll then provide a quote for the necessary work. This enables you to know exactly what the cost is before we commence with any work. Our car servicing is according to the manufacturer's recommendations. On top of that, we will also stamp your service book so that your vehicle's service history is current. A thorough clean and wash is part of the service too.
Car servicing in Gawsworth is essential for the smooth running of your vehicle. It is also essential to choose a trusted and highly regarded garage for the service. For more details on how we can assist you with a top quality car service, contact Cottage Street Garage today. We are open 6 days a week for your convenience. Moreover, our prices are great. As an independent garage, we can provide expert car servicing without voiding your vehicle's warranty. However, you'll find that our prices are more attractive than those that you will pay at the main dealer. If your vehicle needs replacement parts, we only provide top quality, genuine parts. Our expert technicians are also available for free advice regarding your car.